We provide a variety of grasses, legumes or mixtures of hay in round bales or in big squares. Whether you are the horse enthusiast, Dairy Farmer, Cattleman or in the export forage markets, you can find what you need right here.
Custom Haying
Tired of predicting the weather? Let Hubka Farms take care of your hay harvest and rest assured we will produce the highest quality possible and treat your hay like it was our own.
Hubka Farms believes using quality equipment allows us to get the crop down and in the bale faster with a consistent moisture content, which will increase the quality of the finished product. We realize that downtime due to lack of maintenance on equipment will only increase the risk of damaging the crop, or decreasing the value. This is why we run newer and reliable machines to help us get the job done right.
We provide a cutting and conditioning process with advanced conditioning systems. This technique speeds up the curing process by using double conditioners to allow for more moisture to escape the stem in less time providing a high quality product.
Rotary rakes are used to skim the surface of the ground and collect only the windrow to reduce the amount of contaminants and unwanted dead material in the hay which yields a cleaner bale.
Baling can be completed in different sizes to meet your individual requirements, whether you're set up for round bales or square bales. We aim to produce the heaviest bales possible in order to reduce on production and freight costs. Hay is baled at a desired moisture content usually around 13-15% for domestic consumption, and 10-12% for export hay.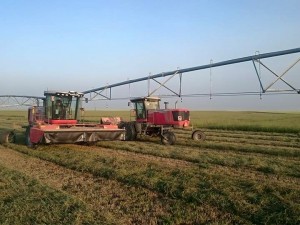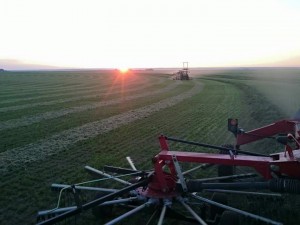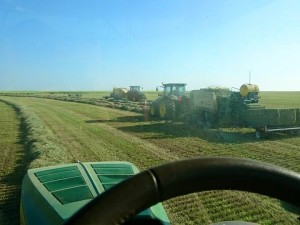 Transport
Need help with freight? No Problem. We are professionals when it comes to hauling your hay. We have access to numerous trailers that can be configured in a way to maximize each load to legal weights. Our drivers are well qualified to handle oversize loads in a safe manor, and can also load or unload themselves if needed.
When the destination is past provincial borders, We have teamed up with 520 Transport Ltd. to get the hay safely to its new home. 520 Transport is a fully commercial freight company whose rates are very competitive with others in the industry. We will take care of export documents and cross border paperwork for you. We have an amazing team who are all dedicated to getting your shipment to its destination safely and most efficiently.